Here you will be able to log-in and access your supplement prescriptions as discussed with you in your visits. If you are unable to log in and/or view  your orders please call us and we will be happy to assist you.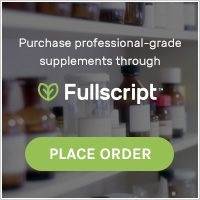 Charm EHR Patient Portal
Here you can:
Fill out your first office visit questionnaire
Communicate with Dr.Nixon about brief medical questions, dietary questions or questions about current treatment plans (please allow at least 3 business days if this question requires a lengthy answer as Dr.Nixon is unable to respond to your questions while she is in a visit with other patients.)
View labs she has reviewed with you during your visits
Review your instructions and handouts once she has signed your chart for that specific date of service. This typically happens on Wednesday and Friday afternoons.
Items that will not be done through the portal: 
Scheduling changes or cancellations will not be done through the portal due to the high volume of emails and patients during the day. If you'd like to change or cancel your appointment we are happy to accommodate you.

Premera and Regence insurance benefits must be verified with Crystal at 206-899-6000 before your appointment. If you are not insured by Premera or Regence, the out of pocket cost is $357.00.

If we do not have all the necessary information before your visit including insurance info if it is pertinent to your visit and a card on file due to the cancelation policy we will need to reschedule you. Thank you.  

Please call us at 206.899.6000 to leave us a message or speak to us directly.

A special note:

W

e do have a 24 hour business day cancelation policy and even though we do understand emergencies happen if you are canceling with short notice it is highly likely your appointment time could have been booked with another patient if you had given more than 24 hours business day notice. If your appointment is canceled within a 24 hour period of your appointment time you will be charged 50% of the cash visit cost for return patients and 100% of the cost for first time patients as your appointment has been reserved specially for you and can not be filled within that time frame.

It is our strict office policy that you will not be able to view labs prior to having gone over them with Dr.Nixon in the office. If you'd like to go over your labs please set up an appointment with Dr.Nixon to review them. We are happy to fax your labs or records to other  facilities as long as we have a signed records release from you. We do not discuss lab results over the phone or by email unless they have already been discussed during a previous visit.
Receive medical advice about a new medical complaint that you have not seen Dr.Nixon for within the last 30 days.
Contact Us today
Schedule an Appointment
Office Hours
Monday 8AM-4:30PM
Tuesday 8:30AM-5:30PM
Thursday 8:30AM-5:30PM